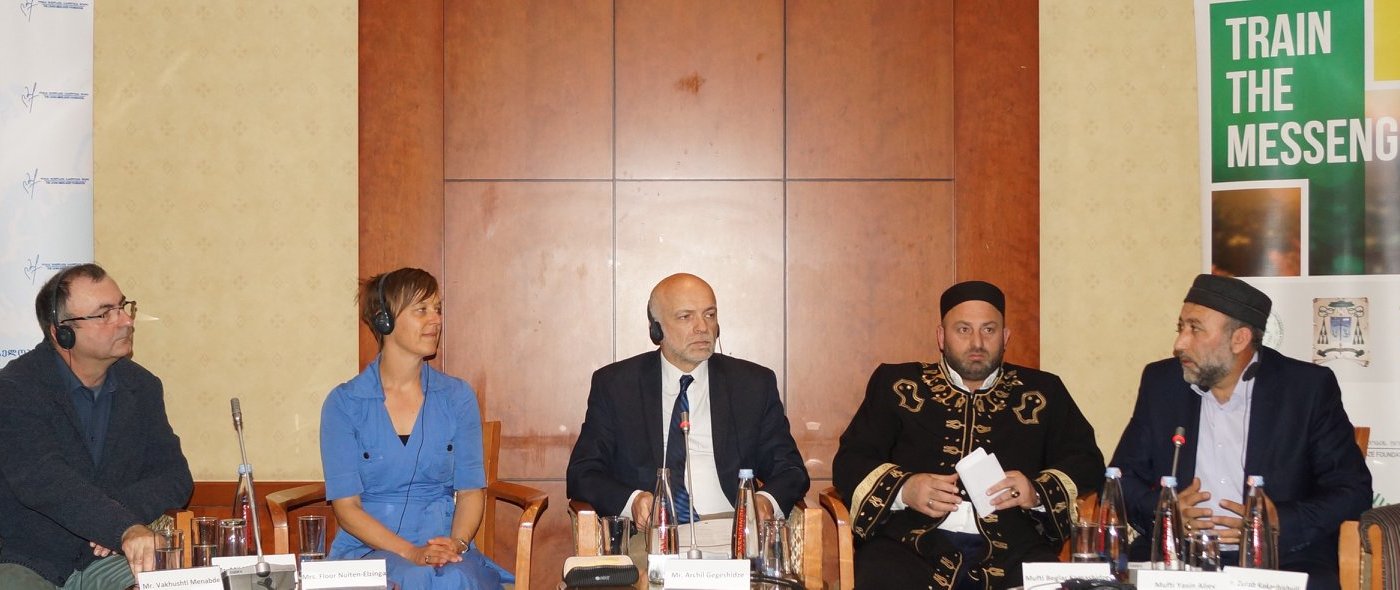 On May 3rd, 2018 the Levan Mikeladze Foundation launched closing conference of the project "Train the Messenger". The Levan Mikeladze Foundation implemented the project "Train the Messenger " with the financial support of the Embassy of the Kingdom of the Netherlands in Georgia. The executive director of Levan Mikeladze Foundation - Mr. Archil Gegeshidze and Deputy Head of Mission, Embassy of the Kingdom of the Netherlands- Mrs. Floor Nuiten-Elzinga made the welcoming speeches for the distinguished audience.
Yasin Aliev, Mufti of the East Georgia discussed the conducted workshops in Kvemo Kartli and Kakheti regions. Meetings with Catholic priests of Samtskhe-Javakheti were discussed by the Catholic priest Zurab Kakachishvili, and the workshops in Adjara were discussed by Beglar Kamashidze, Mufti of the West Georgia.
During the conference, the achieved outcomes of the project and the faced challenges were discussed by the invited experts: Vakhushti Menabde (Associate Professor Law Major at Ilia State University) and Mikheil Mirziashvili (Regional Centre for Strategic Studies). The messengers of the project Tozu Gulmamedova and Oktai Isaev also made a speech about the importance of the trainings in their community.
The closing conference was attended by representatives of Patriarchate, Muslim religious leaders, Latin and Armenian priests from the regions. Representatives of different NGOs, governmental bodies and diplomatic corps participated in the meeting as well.
We would like to thank all the participants of the project, special thanks to Lela Lomia for cooperation and support